For my project update is that I am going to start a google drive compiling all my ideas for my project which was an idea on Taytu Star's page except see used a google doc- which I will also include, but mine is going to be songs, that connect to the paintings of Bob Ross. I also recently had the idea of making videos for each as well, but we will see… I might take clips of Bob Ross's videos, but I also don't want that to be considered plagiarism.
I am trying to pick out a genre for my album, but I am honestly going to inspire this album off of maggie rodgers, muna, and adele which is a weird mix, but I want it to be earthy with mainly piano, guitar, drums, and vocals. I want it to sound indie, yet pop.
I like the six paintings that I chose, but I don't know if I 100% like the order of them so i am going to switch it up I think.
1st: Purple Mountain Ranges. I need to come up with lyrics for each of these as well, but I think this song will be about the colors changing in my world. I will talk about, and reference purple representing romantic energies, and how I fell in love with a girl in the mountains. "Purple is the color of falling in love with you."
2nd: I loved this piece of art because it has the touch of purple but then goes to yellows, orange, and greens which emulate lots of different emotions: warning, relaxation, and optimism all at the same time. I will talk about the love I have for my girlfriend, yet the hesitation of telling my family I love a woman.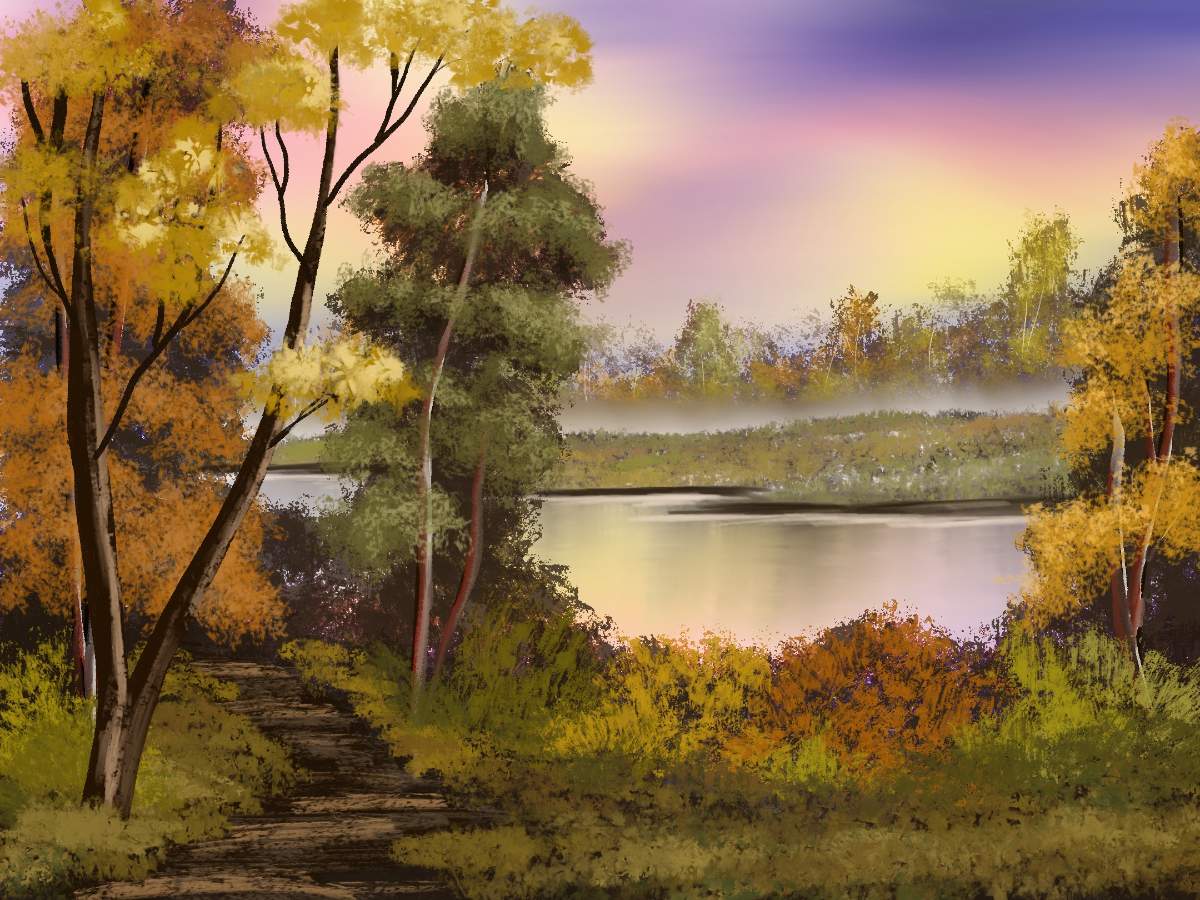 3rd: I will be doing this painting in particular because it has blue in the background imitating sadness for my family necessarily not excepting me, but not excepting the person I love in my life. If you haven't noticed I am making each a metaphor…. " Watching Evening Waterfalls, with the one I love, sadness on my back, but bright green grass slipping through my fingers…" The waterfalls are sadness from the unacceptance, but the bright green grass is the relaxing love and pure clarity of the love my girlfriend always has for me.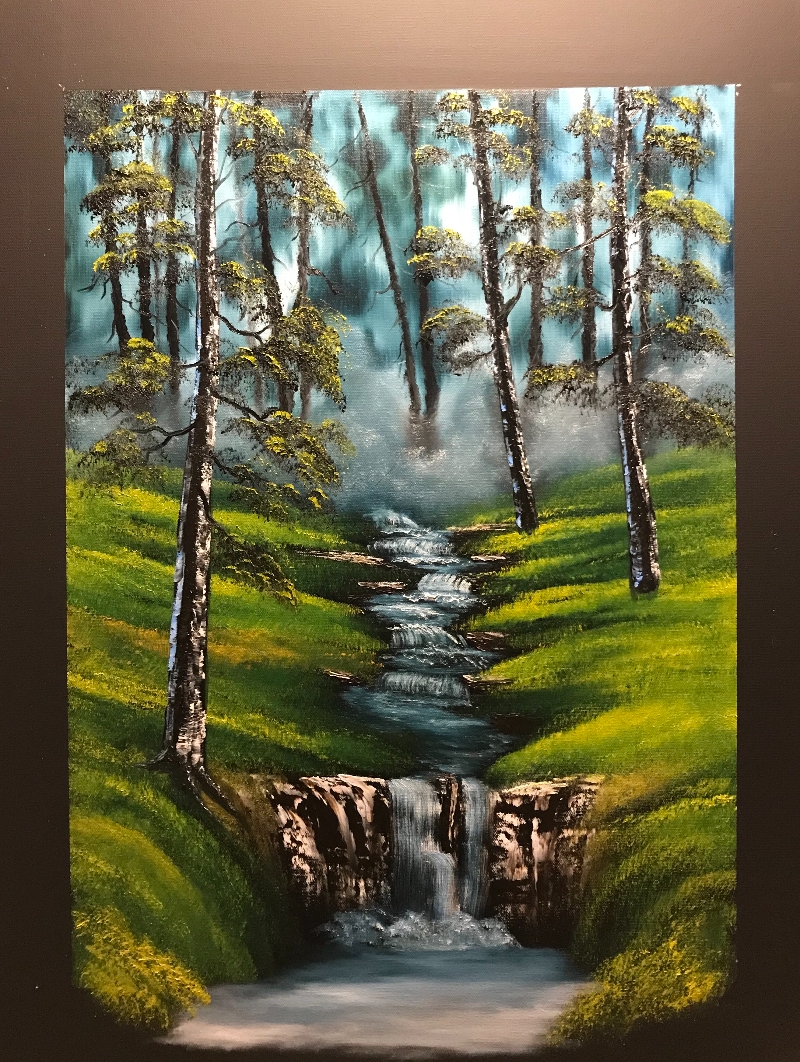 4th: Two Season. I am going to refer to how my family treats my gf vs. how they really feel about her. Then I am going to refer to the Two Seasons as who I have to act like as the Straight Girl, verse who I really am dating a woman. Because in one season I am not showing my true colors and feel as dull as the crisp chilling white snow in wintertime, but in the other, I am as bright as the lush green trees in the summertime.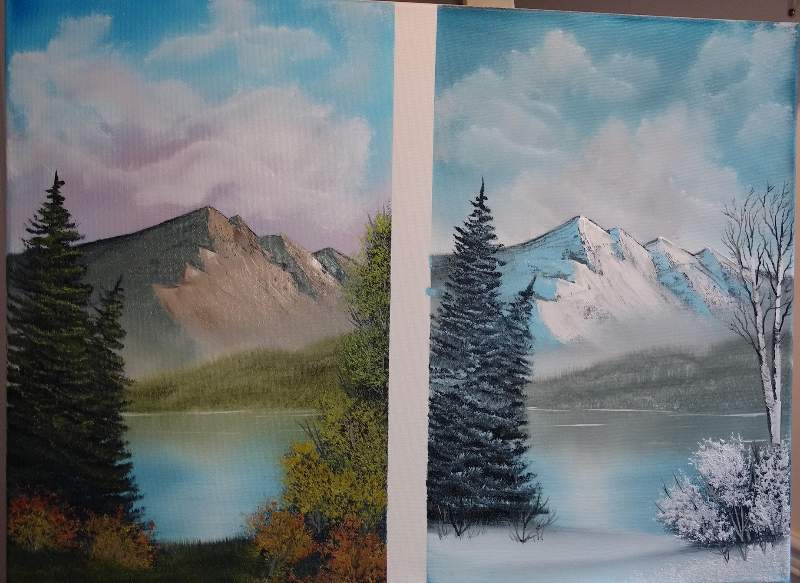 5th: I will be Reflecting upon the love I have with my gf, verse the love I have with my family and realize which season is the reflection I want to see in the mirror. I ish to see the bright green lush trees yet, I see a mix of the snowy mountains and green trees, because the green trees are closest to me and my true self, but when I am with my family I have to be the farthest person I am from my true self just like the dull white snowy mountains.
6th and probably the last piece is Wilderness Falls. This painting emulates exactly how I am feeling with my girlfriend and family at this moment. One chapter of my life is falling into another.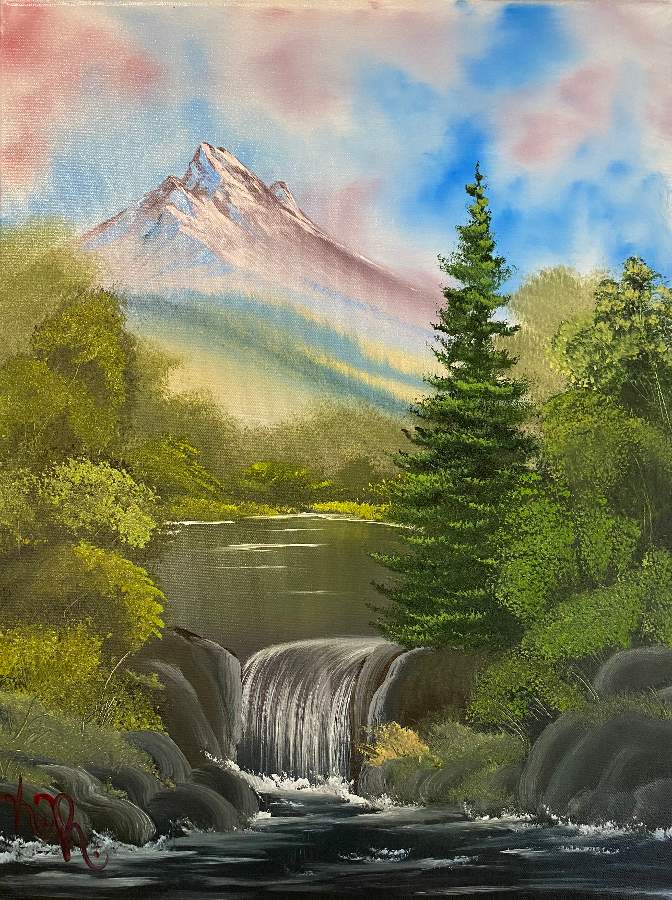 Okay well, that is it for now, hopefully, next week I have some lyrics written up!